COMPLETE SYSTEMS | WE MADE 3! |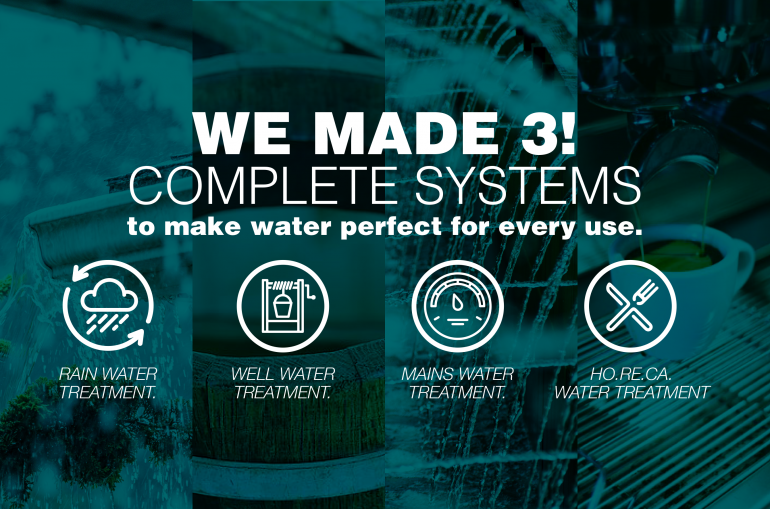 COMPLETE SYSTEMS | WE MADE 3! |
04/11/2021
What's nice about our job is that there's so many types of water to be treated and you never finish looking for perfect solutions. But don't worry: our catalogue has all you need!
RAIN WATER TREATMENT
WELL WATER TREATMENT
MAIN WATER TREATMENT
WATER TREATMENT for the HO.RE.CA. sector
These are just some of the sectors where we can apply tailor-made solutions, and since we like letting you choose, we've prepared 3 solutions to your problems:
HYDRA RAINMASTER | multistage filtration system with self-cleaning pre-filter.
A SNEAK PEEK OF A BIG NOVELTY: HYDRA RAINMASTER BIG.
Majestic, elegant, strong, it guarantees to protect your system to the utmost!
BIG F PRO | dual stage filtration systems with UV lamp to reduce viruses and bacteria.
HYDRA RAINMASTER - HYDRA RAINMASTER BIG - BIG F PRO these are our complete systems already set up and ready to be installed, versatile and easy to use. If you want to see them close up, we'll be waiting for you at our stand n. 466 - Booth 1 | Aquatech Amsterdam: we'll be able to give you advice on the best filtration system you need!