FDM-3
The FDM-3 magnetic sludge removal filter removes magnetic and non-magnetic particles that can damage the closed circuit, especially during the initial working period.
Later, the constant flow of liquid through the filter during normal operation gradually removes all the particles. FDM-3 must be installed respecting the flow direction indicated by the arrow on the coupling tee and with the body always in the upright position; the FDM-3 swivel joint unit allows the filter to be adapted to any piping inclination. The special metal clip allows the filter to be quickly disassembled. FDM-3 head is equipped with a threaded cap, which can be used both to vent and load the system with protective/treatment chemical additives.
It is recommended the installation of shut-off valves before and after FDM-3
Main products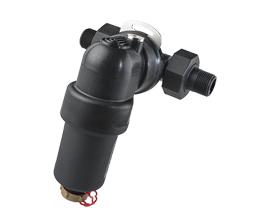 FDM-3
Connections in 3/4" and 1" plastic material: Reinforced PA66 polyamide.
Body: Reinforced PA66 polyamide.
Cap: Reinforced PA66 polyamide.
Filtering cartridge: AISI 304 L stainless steel.
Ball valve: CW 614 N brass.
Swivel joint: CW 614 N brass.
O-rings: EPDM.
Discharge cap: CW 614 N brass.
Magnet: NdFeB - 4500 Gauss - CW 617 N brass magnet container.
Magnet holder: Polypropylene.
3/4" and 1" plastic material
Resolve system issues due to particle contamination
Eensures long system life and maximum efficiency
Eliminates the impurities and combats corrosion